What is an NFT Marketplace?
It's a platform that enables you to preserve and trade NFT or Non-Fungible Tokens easily. You can usually buy or auction these tokens at a fixed rate. You must have a crypto wallet to make transactions and store your tokens to use such a marketplace. OpenSea is a marketplace where you can buy or sell NFT artworks.
An NFT marketplace allows users to build an account, upload digital artworks and make sales. Generally, niche marketplaces are higher in demand than standard ones, as they offer all that clients may need, specialize in selling some online artworks, and contain a specific target audience.
How Does an NFT Marketplace Work?
To use a marketplace, you should register and connect the crypto wallet to your account. Next, you need to follow some steps:
Create an NFT and define all preferred parameters.
List your digital goods for sale and wait for the completion of the moderation.
Buyers put their bids when auctions occur.
When auctions are complete, the marketplace transfers cryptocurrency and digital products.
Top Features to Include in an NFT Marketplace App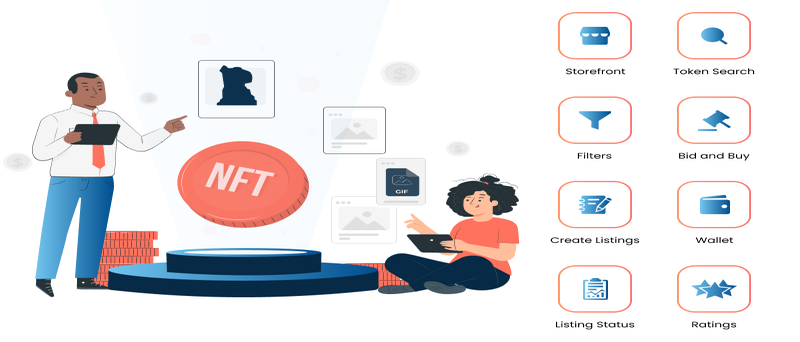 Here are some of the features that you can include to an NFT marketplace app:
1. Storefront
A thriving NFT marketplace usually has a storefront that works like a dashboard. It provides users with all data needed for an asset:
Owners
Bids
Previews
Value history
2. Advanced Token Search
Consumers should get complete information on products they need urgently, without effort. Your NFT marketplace app should contain every product arranged with some features (for example, art, images, music, videos, memes). Faster search boosts client satisfaction.
3. Filters
Using filters is highly beneficial. Moreover, it becomes easier to undergo a website. If you want to create an NFT marketplace platform for collectibles, add this feature. It lets users freely choose assets by category, payment method, due time, and listing status.
4. Bid and Buy
A marketplace must allow customers to buy and provide NFTs recorded on the platform. Their offers should include a bid validity date and enable them to see information on those offers' current status.
5. Create Listings
Allow your consumers to create and send digital collectibles. Make sure they need minimum effort to do it. Please create a page where they can submit files, typing in the detailed product description. Information like tags, title, and description is necessary.
6. Wallet
Your NFT marketplace should contain a wallet that allows customers to store, send and receive NFTs and cryptocurrencies. You can create your own wallet or integrate existing wallets like Formatic, Coinbase, or MyEtherWallet into your platform.
7. Listing Status
Listing status is beneficial for people who provide products and pass the product authentication process. It permits checking the position of the confirmation process. It helps execute collectible verification.
8. Ratings
It's a feature for beginners who don't know where to begin, select products quickly, and how the system functions. Checking someone's rating helps users understand whether the particular seller is trustworthy. On an NFT marketplace, participants can rate others and give feedback depending on their experience. It allows others to check the credibility of a user.
Things to Consider When Building an NFT Marketplace
Following are the factors you should consider while creating an NFT marketplace app like OpenSea:
1. Transparency
Your NFT marketplace must have transparency to give users a clear view of all transactions. The Blockchain network makes sure an error-free payment procedure provides a seamless transacting experience.
2. Security
It's a powerful feature in an NFT marketplace about the transaction of tokens among traders. The in-built security safeguards traders from transaction loss and other unnecessary functions.
3. Decentralisation
It allows you to copy and distribute all information to different Blockchain networks. At the time of a new block's introduction, the network updates it's Blockchain for making changes.
4. The Monetisation Model
It would help if you considered this element while creating an NFT marketplace. For instance, OpenSea does not charge a fee for listing. However, during sales, the platform deducts 2.5% from the product cost.
5. Smart Contracts
No commission fee is necessary for initialising smart contracts. You can do this by signing the contract online to prevent fraudulence and reduce intermediaries.
How to Build an NFT Marketplace?
If you want to create an NFT art marketplace for your business, consider following these steps:
1. Choose Niche
Choosing a specific niche helps you start your NFT marketplace development project. If you have a general concept, discuss it with developers to make the strategy and estimate the timeframe needed for the marketplace creation. According to experts, you should target a vertical market instead of a horizontal one.
2. Define Your Project's UI/UX Design
The UI/UX design is essential when building a marketplace. Your UI must be straightforward. Good UI/UX enhances usability and features a great feel and look of the platform.
3. Move to Front-End Development
If you have a design idea, it's time to execute it. Choose a reliable framework to meet your objects. Hire an expert NFT developer to assure great functionality and credibility.
4. Use Smart Contracts Token Generator
When building an NFT marketplace, back-end development does not look the same. Since the NFT marketplace is a decentralised platform, most of the data gets authentication on a Blockchain.
5. Test and Deploy
It is the most crucial step of creating an NFT marketplace app. During this stage, you need to identify and solve every backlog. Software tests ensure that the project is running correctly.
Post-launch assistance is also necessary to reduce bugs and assure quality performance. In short, this step makes sure credibility and superb app functionality.
How Much Does It Cost to Create an NFT Marketplace?
The cost and duration depend on the performance of the marketplace. If you want to create a complex platform, you must invest more money developing the NFT art marketplace.
If you use a readymade solution, there is no assurance of security, and the product's dependency will be on the platform from where you receive the key. However, the cost will be lower in this scenario.
On the other hand, you may hire a software development team to create a custom app for you. After all, the specialists will create a user flow, build the functionality, add features, and design the marketplace from the beginning. Hence, the price may increase a little more.